Ready to Roll
Sokal Media Group is a full-service agency specializing in catering to the needs of automotive dealerships. Many of our staff have automotive experience, and we strive as an agency to build strong personal relationships with each client to better understand their needs and focus. We pride ourselves on acting as a fluid extension of our clients always keeping their vision clearly in sight. From advanced PPC campaigns and fully-integrated reporting to pre-roll and retargeting, Sokal boasts all-encompassing services and readily-available support. Our strategy combines cutting-edge technology and techniques with a custom hands-on approach in order to make your digital presence the best it can be.
Pricing & Packages
Enroll
---
Intent: Search Engine Marketing
Staying in front of your target audience is paramount when it comes to driving leads and phone calls. Our campaigns are designed to hit the lowest end of the sales funnel on both Google and Yahoo/Bing so that we're sure to capture the interest of anyone ready to buy. Sokal is a Google Ads ™ Premier Partner and a Microsoft Ads™ Select Partner. We combine our solid keyword strategy with highly customizable ad copy, ad extensions, location targeting, etc to make campaigns that combine what you know best about your business with what we know best about search engine marketing.
---
Consideration: Retargeting
Retargeting drives sales intelligently by serving ads to people who have already shown interest by visiting your site. We aim to move shoppers further down the sales funnel by serving them custom banner and video ads as they continue to browse the web. Stay top-of-mind with your customers and be among the first brands a potential customer recalls by adding a retargeting component to your digital advertising package.
---
Awareness: Display/Video
Our display campaigns aim to move customers into your sales funnel by building audience awareness about your specific dealership and/or specials. We widen your reach by serving highly-targeted banner ads to hand-picked third-party audiences on websites and apps, and aim to generate interest in what your dealership has to offer.
---
Inventory Marketing
Inventory Marketing is our search engine marketing product that dynamically creates and serves ads for the used vehicles physically located on a dealership's lot. These ads link directly to each specific vehicle's detail page on your website, taking a potential customer straight to the car or truck they're looking for. Capture the lowest part of the used car sales funnel by putting your ads in front of the customers who know exactly what they're looking for.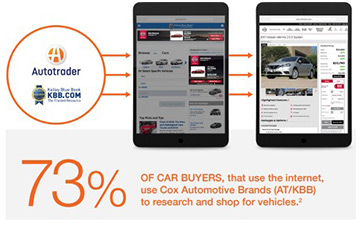 ---
Video
Use video to grab your audience's attention on any internet-connected device! We serve video ads via pre-roll ads, connected/over-the-top TV, and YouTube to make sure we're reaching the people most interested in your brand in a way that works for them. A recent Nielsen study found that brands with video ads viewed for less than even one second still saw increased ad recall, brand awareness, and purchase intent. Let us help you expand the reach of traditional TV with digital precision.
---
Social Media
Facebook's various advertising solutions offer the opportunity to reach current and potential customers at every stage of their purchasing journey. An optimized Facebook advertising strategy is one of the most powerful drivers of revenue growth for any digital brand. We reach custom targeted audiences with single-image or dynamic carousel images as a way to get your ads in front of the most relevant users across both Facebook and Instagram.
---
SEO
We offer a variety of SEO packages for clients who choose to use us as their website provider. With automotive SEO, local content is essential, so our web platform naturally structures meta-data around your location. Our SEO and website team collaborate to craft custom content targeting your customer base and apply directly to your Sokal site. Additionally, we focus on building an organic presence through back-linking with our third-party partners. Our dedicated SEO experts evaluate your organic presence each month and make adjustments accordingly.